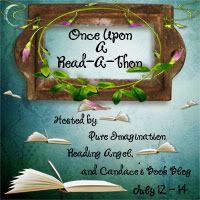 Hey Everyone! For the next three days I will be participating in the Once Upon a Read-a-thon! It's my very first read-a-thon, so I'm not really sure how what my tatctic will be yet (I haven't decided if I'm also going to write reviews during that time.) I plan on taking a short break on Tuesday so I don't go crazy, but otherwise my nose should be permanently stuck in a book. Here's a list of books that I have piled next to my bed at the moment. I have no clue how many I'll get through, but I'm giving myself plenty of options. If you have any suggestions or tips, I'd be very grateful!
Although I might not be on the blog as much, I'll definitely be on
Twitter
!
1) Brightly Woven by Alexandra Bracken (EXCITED!)
2) Tyger, Tyger by Kersten Hamilton
3) Sisters Red by Jackson Pearce
4) The Looking Glass Wars by Frank Beddor
5) The Last Treasure by Janet S. Anderson
6) Someone Like You by Sarah Dessen
7) King Dork by Frank Portman
8) Manifest by Artist Arthur
Eight books in three days? I hope so!
<3 Cate