To be honest, I usually have a difficult time in the YA section of my local library. We don't get new books in very often unless they're exceptionally popular, which means that you may have to hunt around for a good read. Sometimes I only come home with a book or two, but today was different. Today I seemed to be interested in nearly every book that caught my eye. Which turned out to be many more than two...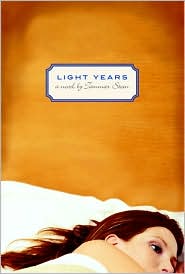 Circle the Soul Softly
by Davida Wills Hurwin- I figured I'd giver her another try. See my review of
A Time for Dancing
here
. and
Light Years
by Tammar Stein. Never heard of her before, but I was up for finding new and unordinary things to read today.
The Lace Dowry
by Andrea Cheng and
The Truth About Sparrows
by Marian Hale. Haven't heard of either of these two yet; and, yes, isn't it odd that these sparrows keep popping up all over the place? Also,
Upstream
by Melissa Lion. It's a quick read, which I'll be needing all the more of once school starts!
By the River
by Steven Herrick and
Jonathan Strange and Mr. Norrell
by Susanna Clarke. Someone said that the second book was similar to Harry Potter. Apparently in more than just subject matter- it's a thick as a Potter as well!
Well, these should keep me busy for a while, don't you think? Hopefully in one of these I can find another favorite book to add to my Favorite's Shelfari (did you happen to notice it on the sidebar? Pretty...)